Together we can #changetheconversation
It takes open, honest and courageous conversation with healthy argument and discussion to create the future we want. Below, you'll find a range of ways you can make a difference and #changetheconversation.
Stay informed
The Australian Futures Project is a non-partisan, non-profit organisation dedicated to ending short-termism in Australia. We envision a nation where all parts of society demand and work constructively toward decisions and actions that balance the immediate and long-term needs of the country. Stay up-to-date with our latest findings, ventures and impact by subscribing to our monthly newsletter.
Endorse The Perfect Candidate
Show your support for Australia's long-term by sharing The Perfect Candidate on social media. Another way to help #changetheconversation is by updating your profile picture. We've created six different tiles to draw attention to Australia's top concerns. Simply save the one that matters most to you and update your social accounts.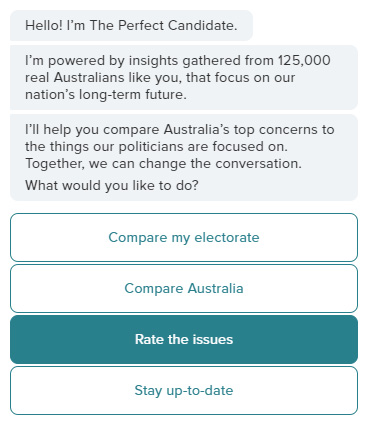 Rate the issues
Tell The Perfect Candidate what matters most to you and discover how aligned Australia's politicians are to your concerns. By taking a moment to consider what you truly care about for Australia's future, we can have more constructive and courageous conversations. Rate your concerns by chatting with The Perfect Candidate.
Compare to the nation
Constructive conversation takes empathy and an understanding of the bigger picture. Once you've ranked the issues that matter most to you, explore what matters most to other Australians. You can compare the issues by electorate, age, gender, state and region. You might be surprised how many people share your concerns even if those in power aren't discussing them.